26.03.2004
We arrived in Hanoi 05:45. Thao procured taxi. We could not get the rooms right away. Only at. 12.00 was the unemployed. So we started the bike around impure pm. 08.00. We drove around in 3 1 / 2 hour. It's always exciting when traffic is intense, as it is here in Hanoi. We cycled over the railway bridge. It was the U.S. bombed many times. Each time it was rebuilt. It is the first time Thao, Phi and Mimi are in Hanoi, so it is I who must show around. The bikes are not too good. It's the same problem every year. We ate lunch at Little Hanoi together with Jesper, Signe, Alma and William. They're just arrived by plane from Denmark. All afternoon relaxing by people other than me. Before dinner we were in water theater. You should see when you are in Vietnam.



We ate dinner at West Lake. There are some special fish restaurants. They are hard to find, and there's only Vietnamese and me. Thao chose the menu, which was very delicious. Only two large fish that were dissected with sticks and wrapped as spring. Then a kind fiskefondue. We finished with coffee, Hoa Kim Lake.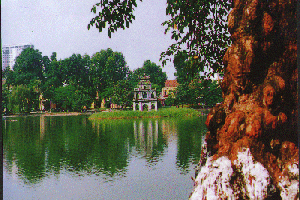 27.03.2004
We will today visit Ho Chi Minh Mausoleum. You may not have bags, cameras or video when you walk through the mausoleum.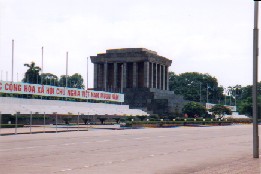 most exciting in Hanoi is the park surrounding the mausoleum, Ho Chi Minh's official residence, the one legged pagoda, Ho Ch Minh's mausoleum. Now there are people from all over Vietnam, to see Ho Chi Minh, so there is plenty to look at. There are always many students, so there are also people to talk to. In one of the houses are played traditional Vietnamese music. The group came sadly away from each other, met initially by the bikes. It is not far from the old university also called literature museum. It was a short bike ride there. There is always a peaceful atmosphere. We walked slowly through the museum and joined by a group of musicians from musikkoncervatoriet. They played for us. Lunch at Little Hanoi. In the afternoon the men went out on their own. Were ordered aboard a fine restaurant. We were 16, besides Thao, Phi and Mi Mi, came Trang, Hung, Kien and Thue, which has now been 3 years. Wed from the university also came. She should have been to Sa Pa, but had to cancel because she was studying for the exam. We had a nice dinner with 9 dishes. Views of Kim Hoa Lake. The evening ended at a small restaurant at the bottom of the lake. Tomorrow we are going to Mai Chau.