18.03.2004
This morning there is not much life in people. Many lie still and sleep here at. 10.00 morning. The train ride was fine, although it's hard to have room for all luggage. We were one hour late. Thao showed up to welcome us. A festive reunion.



We were at the hotel in Hoi An at. 17.00. Cl. 20.00 we went to a very fine restaurant Dong An. Again a festive reunion. Here we met Cung as tour guide throughout Vietnam. He had a group from Hanoi. Bich has been married. She and her husband comes to birthday party tomorrow.
19.03.2004
day where the big celebration to be held. As tradition bikes I to the beach by bicycle taxi. It's me, there are bicycle taxi driver.

Bike Pictures

Cl. 8:00 started our trip to the Village of Hope. We, Chau's mother Luu Thao and the hotel was. We were welcomed in a conference room. Then we went to 3 classes. We admire the discipline that was in the classes. I had many pictures. One of the teachers helped me find the children.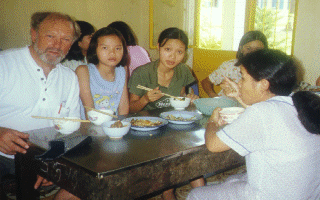 We saw the bedrooms. 8 to 10 in each room. Again a very high order in all rooms. The shoes stood in straight rows. Many of the children could recognize me. We went back to pick up our gifts. 20 globe of 20 cm and 4 world map. There were globes enough for each room. Now was the time was 11.00, so it was dinnertime. We were invited to lunch. Men with boys and women from the girls. It was only me who was eating with the girls. It took a group picture with us and the school children. Now we went back to Hoi An in Hoi Yen Hotel. There were 4 who drove to the beach. Others had other chores. It was now the second time I was at the beach that day. I drove away early because I had many things to do before the party. Cl. 13.00 arrived Thao and Chung together with Chung's sister and brother. Cl. 20.00 starts the party. We were 38 that were 4 apologies. Si and Mao had ordered music, Vietnamese folk song. 4 musicians played. Mao, Caterer song. Si's son Anh also gave a number. Everyone in the company receiving gifts. Si family had a huge cake with. Hoi Yen hotel also gave a giant cake. The afternoon ended we boogie voogie.ed a
20.03.2004
We started at. 9.00. We would visit Luu's school.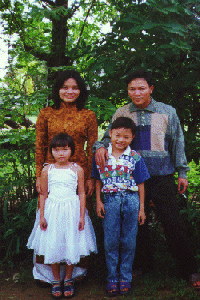 We drive around the neighborhood where Luu's school. Not everyone wanted to. First we visited Luu's school. She accepted us. We visited 3 classes, one continuing education, while we were there. The second class sang a few songs for us. The 3 saluted. Everybody lklassen havdec great discipline. We cycle for 2 hours and took a drink at the port in "Rosa". A restaurant Queen Margrethe and Prince Henrik have eaten at in 1998 .. We cycled over a bridge at Dong An restaurant. On the way back we cycled over the Japanese bridge. and ended with lunch at Dong An. After lunch we went to 2 stores. There were some who were commissioned trousers, sleeping bag and more.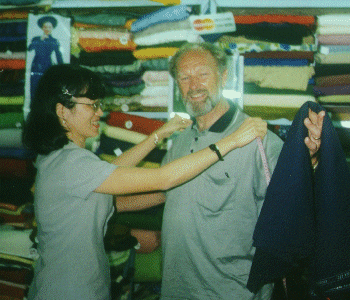 td> tr> table>



afternoon was spent on very different: shopping and some went to the beach. In the evening we would visit Luu Hung and Chau for dinner. We arrived at. 19.00 pm and drove home. 22.00 and ended with a drink at swimmimg pool.
21.03.2004
We started from the hotel at. 8.00. We need to Champ Island venue Dong An restaurant. Unfortunately it was not Champ Island trip the day after police had issued the ban on boating. Sew and Mao, who stood for the voyage suggested that we biked a morning at approx. 4 hours instead. First we drove 1 km on the bike and reached the river where we boarded a small motorboat, where there was room for our bikes. Sy, Mao, Anh, Lien. Si had his 3 sons. Luu had daughter and son with Chau and Huy. When you have room, you see more. We ended at. 12.00 in restaurant Dong An. I think everyone was a little tired. We visited now Moi and Trang.



couple who just got married on 13.12.2003. We all saw their wedding pictures. There were many great and beautiful. This Sunday evening we had dinner at Nha.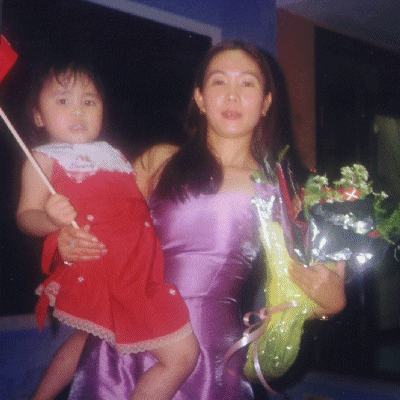 td> tr> table >



We sat outside. Nha's mother had cooked the food. Nha had decorated the table with the Danish flag. The table was very nice. The food is a whole chapter to himself.

td> tr> table >


We started with crab soup, then got 6 dishes and dessert in the shape of fruit. this is perhaps the most delicious meal we have had until now and it is saying something, because almost anything tastes good. The evening ended with drinks at swimmimgpoolen.
22.03.2003
Today we would like to Champ Island. It did so too. We started from the hotel at. 8.00. Drove by bicycle to the restaurant Dong An. Mao was making sandwiches, pack of beer and water down. On this tour was Sy, Mao, Anh and Sy's middle son with us besides 9th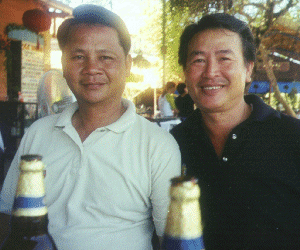 td>


First we had a tour of the city. A very friendly population. Now there is not many tourists to the island. We were greeted with smiles everywhere. The reason that there are so many tourists is that there are 25 miles to the island. We must go into the open ocean. The tourist boats sailing from the port, are not good sailors enough. The sailing is not fast enough. We had rented our boat from the military, which has a boat with big motor. Moi had rented it. After we had seen the little town, we sailed over to the other side of the island. There were no people. You feel, like Robinson Crusoe on a deserted island. There are wild bananas and coconuts. We started with lunch. Very tasty sandwiches and marinated squid, beer and water. There were swum and bathed and some were sunburnt. After returning to Hoi An, we were perhaps a little tired, but there should be very even. Collection of clothes, buying flowers. Tonight we had dinner at Sy. He is a builder in town. Have a very stately home. We had a very delicious dinner with lots of beer and water. The dessert we had at first floor together with the tea. Here entertained our Vietnamese friends with great singing and music. Again we note that we are not well enough prepared. We can not sing without lyrics. It was guilt 'old friendship pure pass away and the national anthem. Vietnamerserne to many songs without lyrics. It was a very festive evening. There was only a little bike ride home. The evening ended with drinks at swimmimgpolen
I hope you all are doing well. Here is speed from 6.00 am to pm. 24.00.



24.03.2004
Thao took us on a cruise. We had bicycles onboard. Around Hoi An town, there are many islands, so we sailed between the islands. We visited a woodcarver workshop. Instead I bought 2 chairs. Morten and Jytte are interested in also purchasing a pair of garden chairs. In conclusion, we visited a pottery lnadsby. Who wore a wizard on the ground who followed us around and told about the city. We biked all from the village to a restaurant that Thao known. It is a specialty restaurant, Thao know, and there will be no tourists. Thao gave ofrokost with beer and water. Now it was last minute shopping done. The clothes were picked up at the tailor. The last visit by the beach. Goodbye to many friends. It's tomorrow morning we forladerHoi An. About aftenenen we ate with Lien. She had been busy. She came from school at. 17.00. She had, however, Luu and Mao to help him. We received many different dishes. Ended with soup and fondue and fruits. After dinner, Mao invited us to a final drinh at his restaurant. Again a successful day. Now every package.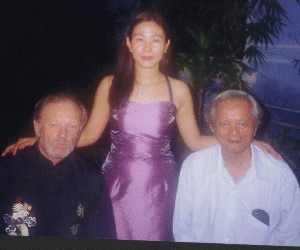 Body> Lyt Læs fonetisk Ordbog - Vis detaljeret ordbogGoogle Oversæt til mine:SøgningerVideoerE-mailsTelefonChatErhvervOm Google OversætDeaktiver øjeblikkelig oversættelseFortrolighedHjælp ©2010VirksomhedsværktøjerOm Google OversætBlogFortæl din historieFortrolighedHjælp