08.04.2004
Departure from hotel at Phan Thai. 07.00. We've got a bigger bus. We need Morten and Jytte home. There is 160 kilometers from Hanoi to Halong Bay. We had a lile midvejs stop at a school for the second generation of Vietnamese, who are poisoned by the U.S. spraying this with orange poison. These children are from 9 years to 17 years. It's the parents poisoning which are passed on to their children. There was a nice atmosphere at school / place of manufacture. There were more people who bought something there. It's tablecloths, murals of fabric and canvas and many other different things. Children get to school and are simultaneously trained in an occupation which they can use as an adult. We ate lunch in Halong Bay. See also the link with "Catch the flying dragon", where there are beautiful pictures of Halong Bay. Sailing to Cat Bay was not as hot as the previous year. Along the way we visited two stalactite caves. We saw the pearl fishermen and many houseboats. The landscape is incredibly beautiful. It's a shame that it was better weather. We were at Cat Bay. 17.00.
dinner we took at a restaurant out in the water. We sailed in a small boat out to the restaurant. It was a delicious fish meal. First giant crabs, then tiger prawns and two large Catfisk. We ended the evening at a restaurant. Anyone got dessert, crepes with chocolate.
09.04.2004
This day is the trek. Boat trip and lunch on the boat and maybe swim. James was hired for the purpose. I've used him for years. We started at. 09:00 by bus. We drove into the mountains. It was an exciting itinerary James had laid. Not too demanding but tough enough to take the breath away from most people.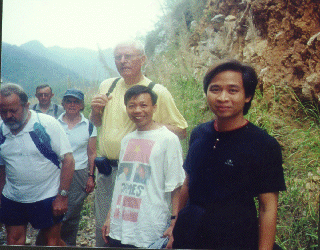 We walked along the mountain trails and in some places there were no trails. James explained about all the medicinal plants which have just found here at Cat Ba. We had just talked about a plant that was good to stop the blood by grazes and relieve pain. We lacked only a volunteer to see if it worked. There had been 10 minutes so we had tested whether the plant could be used. It stopped the blood and alleviate some probably pain. We went through small villages, was of incredible young and exciting ways. Everyone went. The hike took 4 hours. We landed on a beach. We could see our boat on the water. James quickly got hold of a lady who had a fletbåd. The borrowed and he took 3 and 4 with. 3 times so was everyone. You waited a little lunch. We sailed a little out of the bay to eat. The captain and his wife had prepared a lovely lunch. Tiger prawns, squid, lots of vegetables, rice and omelette into small cubes. We got all tigerøl. We sailed a little walk around the mountains. We were going to visit James in his home. But before then we should see the new beach project. It was impressive. We could see how it would be when it was finished. It was a little scary. One hopes it is not an entirely fair. The old beach I felt better about now. We will see next year. Cl. 17.00 we visited James private. We each had a motorcycle to his home. James had hired them. The whole family was together. James aged 32, his wife 30 years, daughter of 9 years and son of 1 year. We were nicely entertained with tea and lots of fruit. The trip home was also on mototcykel. Some of the group would now have a massage. We tried a new place to eat. It was very good food. All are nearly gone to bed now. Tomorrow we return to Halong Bay and Hanoi.
10.04.2004
Depart from Cat Ba. James was there to wave goodbye. Pineapples for everyone and a small gift for me. We had a very nice sailing to Halong Bay. After an hour's sailing sun came up. Lunch, we were now in Halong Bay. First stop is a ceramics factory. Here works Thu Ha's sister and mother. This evening we dine at Hoa SIIA. It's a French restaurant school for street children. One of the best restaurants in Hanoi. We ended the evening by the lake with a drink.