28.03.2004
Today is the Mai Chau. It has become harder to get there. Because of road works is a mountain range is closed and was blasted large rocks off. We must take a little detour in Hoa Bin. We rented a boat that sailed us up the underground river to a trading place. It was a beautiful trip. You waited a little bus for us and a car to the bikes. On the road to Mai Chau and the town of Ban Lac, there were major roadworks. There are really made much of the roads. We arrived in Ban Lac pm. 14.30. White Thais quickly made lunch for us. We took a little trip around the three cities that Ban Lac is composed. There are not many tourists because of hassles to get here. We have all been provided with beds with mosquito nets. It is the first time Thao, Phi and Mi Mi is on a long vacation. Jesper, Signe, Alma and William find themselves well during these very strange circumstances. Now the group is familiar with the city so everyone can find around.
29.03.2004
This day is reserved for school visits.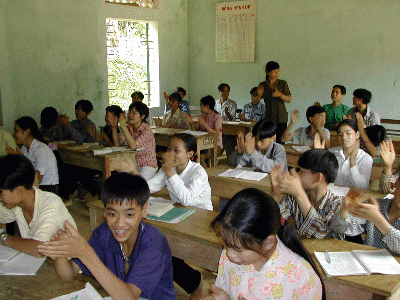 That means all morning. Cl. 8:00 we bike from Ban Lac. We were greeted with tea at the school. Headmaster welcomed us. We visited several classes and greeted all the children. It was a pleasant visit. We had world maps, school books and pencils. Now the sixth time I visit this school. On the way home we visited the market. After lunch, we on a bike ride. Afternoon bike ride went on small paths through rice fields and small villages.


Morten was and took the village, otherwise it was all going. Also Jesper, Signe, Alma and William and Thao and Mi Mi. I had Mi Mi back of my bike. The trip was a great experience for everyone. After dinner we sat and enjoyed ourselves with vodka / 7 up. It was a dramatic start to the ride. We pulled the bikes over a small precipice, where it had laid a beam, which incidentally was loose. Jytte entered slightly wrong and slightly decreased towards the abyss. There was however nothing to her. Jytte has apparently continued to decline with his bike in Mai Chau. Last it was in a rice field.
30.03.2004
Departure from the village at. 08.00. Today we are going in the opposite direction at the other end of the valley on their way to Laos. We biked the road approx. 14 km out of the end of the valley. There was rented 2 boats that sailed with us around. 1 hour. We are here only 5 km from Laos. There was not much water in the river, so we did not Laos closer than 5 km. Everyone was on this trip. After lunch the group was divided into second One group went to a mountain where there was a fine view of Mai Chau. There was also a fine cave. It was a grueling journey of 1024 steps. The other group cycled an exciting ride along tiny paths. Some places had bikes borne over rocks and small pits. Jesper had his son William at 6 years. He did fine. We went far and wide. Again a beautiful ride through rice paddies and small villages. We ended up somewhere we could get Bia Hoi. It was a kind of beer to 75 cents. After dinner dancing white Thai people for us.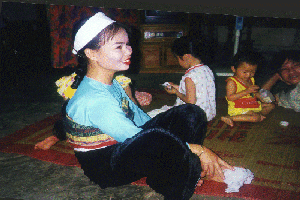 We finished with vodka and 7 up.
31.03.2004
Depart from Mai Chau. The trip to and from Mai Chau has become much more difficult after you've closed the mountain range completely to create a new road. Before we took a car in Hanoi and drove to our house in the village. With the bikes in the car. Now we go first to Hoa Binh and have a truck with the bikes. We stop at the black river and loader bikes aboard and sail upriver. Later we read cycles on and off a car running with the bikes. We run into another car. It is unloading and loading many times. We ate lunch in Hoa Binh. Dinner at Hoh SUA. It's a French restaurant, where children learn that they were servants. It's street children. We were 16 people at table.
01.04.2004
We started from Phan Thai hotel at. 09.00. The trip went to West Lake Hanoi's largest lake. The ride is approx. 12 km. The houses along West Lake is more exclusive than many other places in Hanoi. At the beginning of West Lake is Hanoi's Šndste pagoda. We made no stops. On the right side of the lake lies a few big hotels and many pagodas and temples. We drove to a very famous pagoda, which lies at the end of an isthmus. Many of Hanoi's citizens use it for outings. The last stretch to the pagoda, ca. 1 km. there is one restaurant after another. Great restaurants, each of which can take 100 or more guests. It is a place where there are many people. You can also buy trays of fruit and money for the arts offerings in the pagoda. You buy such a tray with all sorts of fruits and arts money some incense sticks. The tray is placed on the altar, incense sticks are lit and meditate. After a period of 1 hour maybe 2 hours retrieved the tray and the family eats fruits and arts money will be burned in a large oven. The family has thus made the excursion to the pagoda at a party. In the region we visited 2 pagodas. There are many. It is a sanctuary outside noise from cars and motorcycles. There rests a peace of such a place. We cycled past the large gardens and a large water park. There are never many people and it is shown only in the summer there are many. The water park is at the other end of the lake. We also try to ride along the tiny streets, which is only 1 to 2 meters in width. So you get the impression of how close Hanoi is inhabited. These districts are in many places. Tourists never there, since one can easily get lost there. We drove along the streets around. 15-20 minutes. The tour ended at Hoa Sea. It has been our regular cafe. I drove on, when I had a meeting about Sa Pa-Bac Ha tour. We ate dinner at a rooftop restaurant. There was also good food tillaveet. It is close to our hotel. Even if we were up early, we ended the evening at Kim Hoa Lake.